This site includes links from a number of different affiliate programs. When you click on a link and make a purchase, we may earn a commission.
HEAR Bible Study Method
The HEAR Bible Study Method was developed by Robby Gallaty from Replicate Ministries. It helps you to understand, respond to God's Word, and hear God.
This Bible Study Method is based on the acronym HEAR.
This is how it works:
First read the passage you want to study.
H – Highlight – Then highlight the verses that speak to you by writing out the following:
The name of the book
The passage of Scripture
The chapter and verse numbers that especially speak to you
A title to describe the passage
E – Explain – Explain what the text means. These questions might help you:
Why was this written? 
To whom was it originally written?
How does it fit with the verses before and after it?
Why did the Holy Spirit include this passage in the book? 
What is He intending to communicate through this text? 
A – Apply – Consider how you can apply this text to your own life.
How can this help me?       
What does this mean today? 
What would the application of this verse look like in my life? 
What does this mean to me? 
What is God saying to me? 
R – Respond – Finally, respond to God. This can be done in different ways.
Write a call to action.
How will I be different because of what I've learned?
Write out a prayer.
What's my next step in becoming that person?
The HEAR Bible Study Method is a great method to help us hear from God.
Download Free Graphic – HEAR Bible Study Method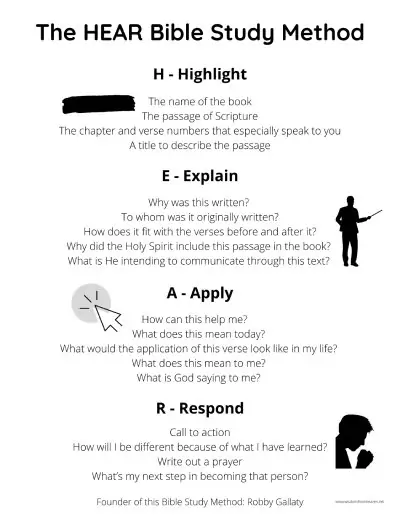 ---
Find more Creative Bible Study Methods here
Welcome to our site where we share the Wisdom that comes from Heaven – from God, God's Word, Love, and Truth in a creative visual way.
I'm a servant of Jesus Christ sharing God's Word, Love, and Truth to draw people to Jesus Christ so they can be reconciled with God according to Matthew 28:16–20. I'm also a wife, mom, teacher, author, and artist.