This site includes links from a number of different affiliate programs. When you click on a link and make a purchase, we may earn a commission. We also have ads displayed on our site as a means to support our online ministry. Please be aware that some of the ads may not be appropriate for Christians.
Get a FREE GOD'S AGAPE LOVE BIBLE STUDY and free access to our CHRISTIAN FREEBIES LIBRARY
when you sign up for our newsletter to receive updates!
---
Welcome to Wisdom From Heaven!

Welcome to our site where we share the Wisdom that comes from Heaven – from God, God's Word, Love, and Truth – and warmly invite you to use your creativity to serve and worship God.
We are all creative because God is the Creator and He created us in the image of Him. We are co-creators with God.
When we create, we please God, serve, and glorify Him because it's a reflection of the image of God.
For we are God's fellow workers. You are God's field, God's building. 1 Corinthians 3:9
Whatever you do, work heartily, as for the Lord and not for men, knowing that from the Lord you will receive the inheritance as your reward. You are serving the Lord Christ. Colossians 3:23-24
For we are his workmanship, created in Christ Jesus for good works, which God prepared beforehand, that we should walk in them. Ephesians 2:10
So God created man in his own image, in the image of God created he him; male and female created he them. Genesis 1:27
---
Biblical Teachings
---
Please visit our Shop!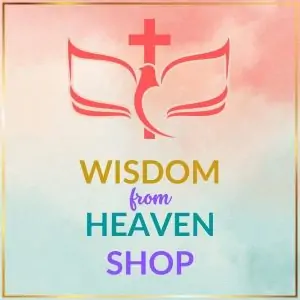 ---
Christian Faith and Living
Sorry, no posts were found.
---
Creative Bible Study
---
Creative Ways to Share the Gospel
Sorry, no posts were found.
---
Wisdom From Heaven Diary – Spirit-Anointed Blog Posts
---
Visit our Wisdom From Heaven Library!
---
We are a non-denominational Bible-believing Christian ministry trained and equipped at the Christian Leaders Institute.
---
Want to support our Christian Online Bible Teaching Ministry?
Here you can cheerfully give your donation for which we are very grateful: 
Many thanks! God bless you!