This site includes links from a number of different paid/affiliate programs. When you click on a link and make a purchase, we may earn a commission. We also have ads displayed on our site as a means to support our online ministry. Please be aware that some of the ads may not be appropriate for Christians.
Get a FREE GOD'S AGAPE LOVE BIBLE STUDY and free access to our CHRISTIAN FREEBIES LIBRARY
when you sign up for our newsletter to receive updates!
---
Welcome to Wisdom From Heaven!

This is a Biblical Online Ministry.
Our Mission:
Connecting Faith and Creativity: Sharing God's Love
At 'Wisdom From Heaven', our mission is to enable women to express their faith through various creative means, such as coloring, doodling, expressive arts, collaging, journaling, writing, and more. While our primary focus is on women, we extend a warm welcome to individuals from diverse backgrounds. Through our inspirational content our aim is to guide women and all members of our community in connecting their faith with their creative abilities. We believe that each person has the capacity to create works that illuminate lives and convey the transformative love of Jesus Christ.
Our Vision:
Spreading Hope and Love Through Faith and Creativity
We envision a vibrant space where women and those intrigued by our message can seamlessly fuse their faith with creative talents. Embracing a variety of tools such as coloring, doodling, expressive arts, collaging, journaling, writing, and more, we aim to foster a community that celebrates the beauty of faith through diverse creative expressions. Our vision is to be a haven where each person can find their unique path to connect with Christian spirituality and creativity, resulting in a tapestry of hope, inspiration, and love. Our doors are open to individuals who share our values and seek to contribute to a supportive and nurturing environment.
Scriptural Support for our Mission and Vision:
All Scripture is breathed out by God and profitable for teaching, for reproof, for correction, and for training in righteousness, 2 Timothy 3:16
Let the word of Christ dwell in you richly, teaching and admonishing one another in all wisdom, singing psalms and hymns and spiritual songs, with thankfulness in your hearts to God. Colossians 3:16
And he said to them, "Therefore every scribe who has been trained for the kingdom of heaven is like a master of a house, who brings out of his treasure what is new and what is old." Matthew 13:52
Therefore encourage one another and build one another up, just as you are doing. 1 Thessalonians 5:11
Whatever you do, work heartily, as for the Lord and not for men, knowing that from the Lord you will receive the inheritance as your reward. You are serving the Lord Christ. Colossians 3:23-24
But the hour is coming, and is now here, when the true worshipers will worship the Father in spirit and truth, for the Father is seeking such people to worship him. God is spirit, and those who worship him must worship in spirit and truth." John 4:23-24
Addressing one another in psalms and hymns and spiritual songs, singing and making melody to the Lord with your heart, Ephesians 5:19
Go therefore and make disciples of all nations, baptizing them in the name of the Father and of the Son and of the Holy Spirit, teaching them to observe all that I have commanded you. And behold, I am with you always, to the end of the age." Matthew 28:19-20
And he gave the apostles, the prophets, the evangelists, the shepherds and teachers, to equip the saints for the work of ministry, for building up the body of Christ, until we all attain to the unity of the faith and of the knowledge of the Son of God, to mature manhood, to the measure of the stature of the fullness of Christ, so that we may no longer be children, tossed to and fro by the waves and carried about by every wind of doctrine, by human cunning, by craftiness in deceitful schemes. Rather, speaking the truth in love, we are to grow up in every way into him who is the head, into Christ, from whom the whole body, joined and held together by every joint with which it is equipped, when each part is working properly, makes the body grow so that it builds itself up in love. Ephesians 4:11-16
As each has received a gift, use it to serve one another, as good stewards of God's varied grace. 1 Peter 4:10
Having gifts that differ according to the grace given to us, let us use them: if prophecy, in proportion to our faith; if service, in our serving; the one who teaches, in his teaching; the one who exhorts, in his exhortation; the one who contributes, in generosity; the one who leads, with zeal; the one who does acts of mercy, with cheerfulness. Romans 12:6-8
And let us not grow weary of doing good, for in due season we will reap, if we do not give up. So then, as we have opportunity, let us do good to everyone, and especially to those who are of the household of faith. Galatians 6:9-10
---
Did you know that we are all creative?
Not only artists, designers, musicians, artisans, etc. are creative.
We are all creative because God is the Creator and He created us in the image of Him. We are co-creators with God who gives us talents, gifts, and abilities unique to ourselves reflecting our wonderful Creator.
When we create, we please God, serve, and glorify Him because it's a reflection of the image of God.
For we are God's fellow workers. You are God's field, God's building. 1 Corinthians 3:9
Whatever you do, work heartily, as for the Lord and not for men, knowing that from the Lord you will receive the inheritance as your reward. You are serving the Lord Christ. Colossians 3:23-24
For we are his workmanship, created in Christ Jesus for good works, which God prepared beforehand, that we should walk in them. Ephesians 2:10
So God created man in his own image, in the image of God created he him; male and female created he them. Genesis 1:27
---
Biblical Teachings
---
Multi-Format Bible Teachings
Sorry, no posts were found.
---
Please visit our Shop!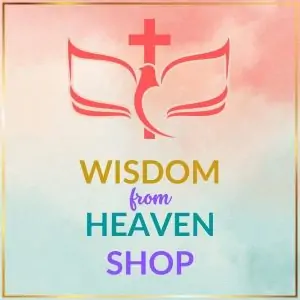 ---
Christian Faith and Living
Sorry, no posts were found.
---
Creative Bible Study
---
Creative Ways to Share the Gospel
Sorry, no posts were found.
---
Daily Doodle Devotionals
---
Weekly Creative Devotionals
---
Wisdom From Heaven Diary – Spirit-Anointed Blog Posts
---
Visit our Wisdom From Heaven Library!
---
Want to support our Biblical Online Ministry?
Here you can cheerfully give your donation for which we are very grateful: 
Many thanks! God bless you!
We are a non-denominational Bible-believing Christian ministry trained and equipped at the 
Christian Leaders Institute
. Even though our ministry is based on God's Word, the Bible, you need to approach our teachings like the Bereans and always study the Bible yourself to see if what we teach is aligned with what is written in the Bible.  
Now the Berean Jews were of more noble character than those in Thessalonica, for they received the message with great eagerness and examined the Scriptures every day to see if what Paul said was true.
Acts 17:11 NIV
We are only humans who
'stumble in many ways'
(James 3:2)
and we only
'know in part and we prophesy in part'
(1 Corinthians 13:9)
.
The information and advice provided on our blog, with the theme "Christ-Centered Creativity: Sharing God's Love through Inspiring Creativity," are intended for educational and informational purposes only. The content presented on this platform is not intended to substitute for professional advice, whether medical, legal, financial, or any other professional field. Remember that spiritual matters and personal well-being are deeply personal and can have profound effects on individuals. Seek guidance from qualified professionals and prayerfully consider your own circumstances when making significant decisions in your life.